Sometimes, we have a special connection with certain experiences. For me, Huling El Bimbo is one of those. I had the opportunity to watch the play twice, the first time being in 2018, and it was a rollercoaster of emotions that I will never forget.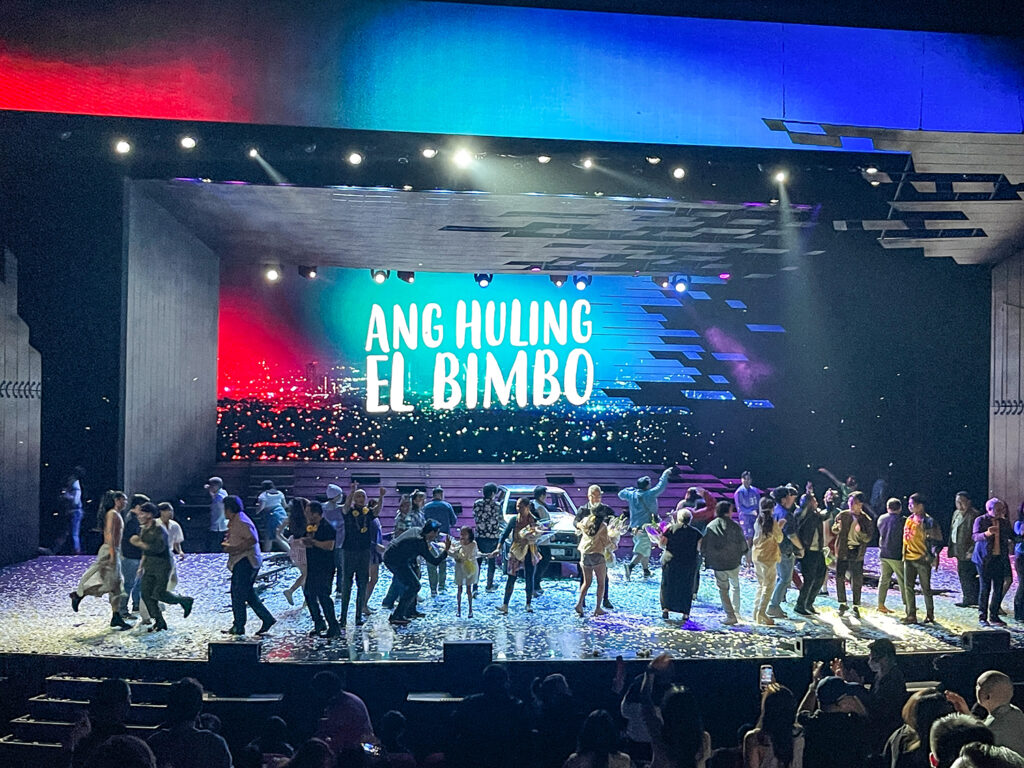 If you're not familiar with Huling El Bimbo, it's a musical that brings together the iconic music of the Filipino band, Eraserheads, and the story of three college friends. The show takes you on a journey through their past and present, exploring themes of love, friendship, betrayal, and redemption. The music of Eraserheads serves as the soundtrack to this story, adding a layer of nostalgia and familiarity to the experience.


The first time I watched the play, I was already a fan of Eraserheads' music, so I knew I was in for a treat. But what I didn't expect was how deeply I would connect with the story and characters. As someone who had experienced the highs and lows of friendship, love, and loss, the play hit close to home. I found myself laughing, sobbing, and singing along with the songs. It was a truly immersive experience that left a lasting impression on me.
When I found out that Huling El Bimbo was coming back to Newport World Resorts this year, I knew I had to see it again. And I invite you to do the same. Whether you're a fan of Eraserheads or not, the music and story of Huling El Bimbo will resonate with you. It's a celebration of Filipino culture and identity, but also a universal tale of the human experience.
If you're looking for a night of nostalgia, music, and emotions, then Huling El Bimbo is the show for you. Book your tickets now and don't miss out on this unforgettable experience. Trust me, it's worth it. And yeah, bring a hanky or pack of tissue with you.

For more information on Ang Huling El Bimbo The Musical and its show schedule, visit www.newportworldresorts.com
President & Chief Executive Officer, Newpoert World Resorts: Kingson Sian
Senior Vice President CorporateSponsorship & Entertainment: Ana Chua
Music Publisher: Merwin Tee

Director & Choreographer: Dexter Santos
Associate Director: Menchu Lauchengco-Yulo
Playwright: Dingdong Novenario
Dramaturg & Additional Scenes & Dialogue: Flory Quintos
Musical Director & Arranger: Myke Salomon

Choreographers:
Stephen Vinas and Ernest Fritz Esase

Scenic Designer: Gino Gonzales
Lights Designer: Monino Duque
Costume Designer: Marlon Rivera
Project Designer: GA Fallarme

Musical Director, Founder & Conductor: Maestro Rodel Colmenar
Conductor: Michael Jacinto
Sound Engineer: Rards Corpus
Sound Designer: Arvy Dimaculangan
Hair & Make up Designer: Elliza Aurelio

Cast:
Gab Panginlinan as young Joy
Anthony Rosaldo as young Hecotr
Paw Castillo as young Emman
Topper Fabregas as young Anthony
Gian Magdangal as Hector
Bullet Dumas as Emman
Nino Alejandro as Anthony
Shiela Francisco as Tiya Dely
Katrine Sunga as Joy
Jamie Wilson as Arturo Banlaoi

Ligaya:
Sophia Bragais
Kathryn Panlilio
Ramjean Entera

Covers:
Emman: OJ Mariano
Joy: Menchu Lachengco-Yulo
Sgt. Banlaoi: Jonathan Tadioan

Young Joy: Jam Binay
Young Anthony: Benedix Ramos
Young: Eman: Khalil Tambio
Young Hector: MC Dela Cruz

Hector: James Uy
Anthony: Noel Rayos

Ensemble:
Abi Sulit
Fritz Esase
Jasper John Jimenez
Jordan Andrews
Stephen Vinas
Natasha Cabrera-Cruz
Mica Fajardo
Cara Barredo
Red Nuestro
Emerson Evangelio
Rofe Villarino
Eduardo Evangelio
Marc Anthony Grantos
Cheska Quimno
Iya Villanueva
Gie Onida
Julia Santiago
Liway Perez
Francis Gatmaytan
Joshua Bajado
Rapah Manalo
Jules Dela Paz
Miah Canton
Jep Go
Teetin Villanueva

Please follow and like us: