I can still count the restaurants in Cebu that serve satisfying steaks with my fingers. And Il Primo easily ranked up as my number 1 favorite steakhouse in the metro after a sublime lunch last week.

Passing through the grand lobby of the 5-star NUSTAR Resort and Casino, it got me more giddy to try the promo beef offering from the buzzy new and only Italian steakhouse in Cebu!

Il Primo offers fine Italian cuisine, gourmet comfort food and signature beverages. What sets them apart form other steakhouses is that their premium quality steak are prepared using Josper Grill – a specialized grill to optimally preserve the meat's aroma, delicacy and succulence.

Chef de Cuisine Luca Angioletti handpicked recommendations for our lunch before we go slicing into the dish I came here for – the Il Primo's Butler's Steak!

I started off with a glass of Spitz Vaneciano -a sweet sparkly house cocktail made with Aperol, Prosecco and soda, to set the mood.
For the salads, we had the Il Primo Salad ( garden greens, scallops, parmesan chips and orange lemon dressing ) and Burrata ( Italian heirloom tomatoes, basil, creamy burrata, cold press olive oil) to share with my other 2 lunchmates.


Catching up with former media colleague over lunch who I've not seen for over a couple of years calls for more food! A common excuse we make for us to be able to carry on with the conversation for a few more hours. Haha! We added Pappardelle Pasta (handmade flat ribbon pasta, red wine braised beef ragu, topped with 24K gold sheet) and the Salmone ( Grand Atlantic Salmon Fillet, crushed potatoes, spinach, bottarga) on the table as we gabbed on recent significant events that happened in the metro – from the devastating typhoon Odette and pandemic, to how Cebu is rising above it all.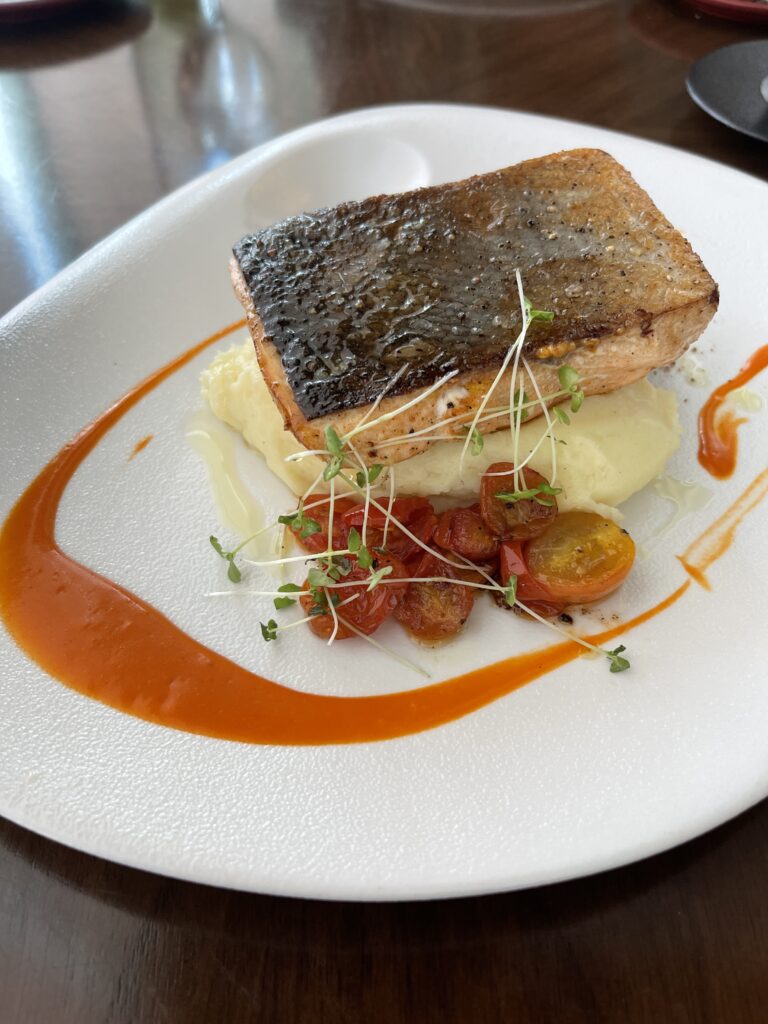 After indulging in the fine Italian offerings, it's finally time for the Butler's Steak!
The 200 gram premium steak cut from the chuck/shoulder is lean, yet flavorful and juicy! I had mine done "medium well" and the steak in itself is tasty. You have the option to add more zing to the plate with any of the 2 steak sauce varieties available. And yes, we had two servings of Il Primo's Butler's Steak.
Of course, I left some room for dessert! Ending the gastronomic lunch with sweet treat servings of Chef Luca's specialty Pannacotta, and house-specialty dolci, Tiramisu!
My first Il Primo experience was truly superb! It's a dining standard that's fresh and brand new for Cebuanos, yet warm and unintimidating. Must be because of the friendly Executive Chef and staff!

The food – EXTRAORDINARY! Italian food is very straightforward -using as much locally sourced, quality and fresh ingredients, but Il Primo has its way for elevating it to a different level. The layers of flavors in every dish are noticeably fresh, and the balance in taste makes it effortless to enjoy every plate. Every ingredient on each fare goes well together harmoniously. This might sound very over-the-top, but try it yourself to know what I mean. 😉
I myself can't wait to go back, and maybe next time have and try the US Black Angus Cab Omaha Prime Tbone Steak, or the Japanese Wagyu Striploin. <3

And yeah, grab your chance to have the Butler's Steak for only P999++ this August and September 2022 with Il Primo's Lunch Promo. For inquiries and table reservations, call 0998 539 6735.
Please follow and like us: