13 March 2023, Collab Sheraton Manila – Cebu Pacific Air and Singapore Tourism Board renew partnership with fresh authentic experience to give Filipinos more reasons to visit the Lion City! Get ready to pack your bags and jet off on an adventure as travel between the Philippines and Singapore is more accessible, convenient, and affordable for budget-conscious travelers with Cebu Pacific's daily low fares and FREE off the beaten path experience with Singapore Tourism Board's Rewards Program.

Intl. Group Singapore Tourism Board's Asst. Chief Executive Juliana Kua shared the revitalised events calendar that drives travel demand to the country, which includes leisure events like HSBC Women's World Championship, SG Food Festival, Formula One SG Grand Prix, Zookout SG 2003, etc. and MICE events like Aisa Tech SG, ITB Asia, FIND: Design Asia and more. Area Director to the Philippines Ruby Liu shared Singapore Rewards Program which gives tourists a fresh perspective of Singapore, uncovering the country's best hidden gems for FREE! By downloading the SIngapoRewards App, each tourist can redeem one FREE experience from 40 exciting new adventure.


Cebu Pacific Air's Vice President -Marketing and Customer Experience Candice Iyog shared their vision of promoting the Philippines and Singapore as prime travel destinations with more flight frequencies between the two countries. Cebu Pacific AIr now flies weekly 21 times from Manila, 7 times from Cebu, 4 times from Davao, and 7 times from Clark starting 28 April 2023. Cebu Pacific Air's Marketing Director Michelle Eve De Guzman added that Cebu Pacific Air and Singapore Tourism Board's goals are very much aligned in delivering value to guests through experience.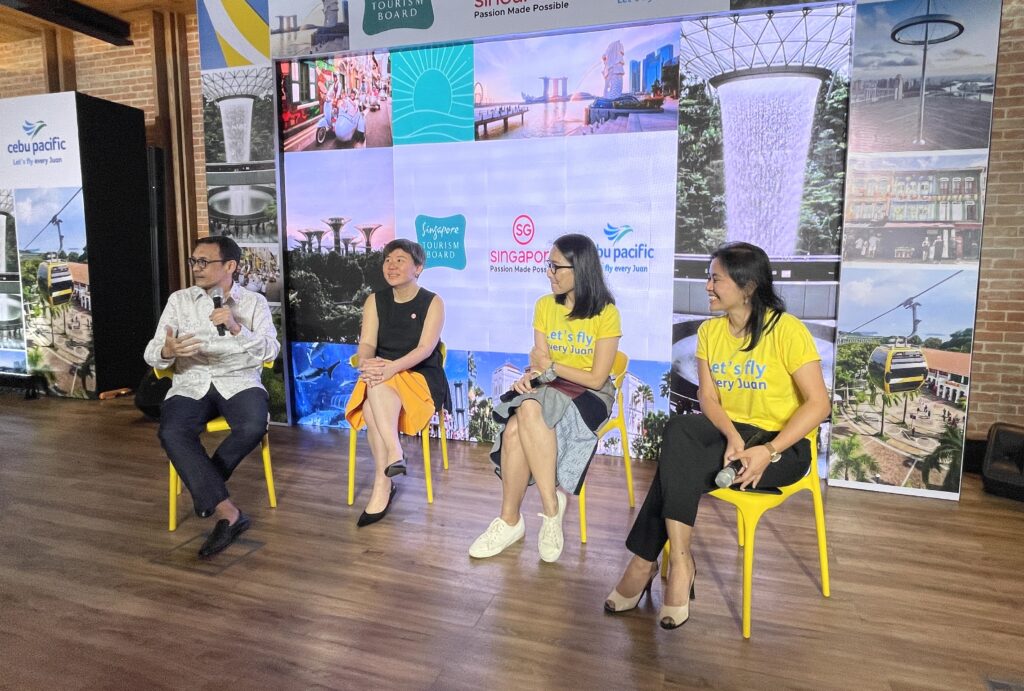 The renewed partnership is not just about encouraging Filipinos and Singaporeans to explore each other's countries, but also promises to boost tourism and economic growth. It's a celebration of the partnership's success, and a showcase of their continued commitment to promoting growth in the Philippines and Singapore.
Grab your passport and get ready to explore the best of what Singapore has to offer! With Cebu Pacific Air's low fares and convenient flights, and STB's exciting FREE experience, your next adventure is just a few clicks away!
Please follow and like us: