Couldn't be more thrilled as a southerner with the opening of "the world's best modern Chinese restaurant" right in the heart of the Philippines, my home, Cebu!

Being the 7th outlet in the world, and the only Mott 32 in the country, the restaurant is bound to be one of the Philippines' destination dining spots, offering award-winning modern Cantonese fare with a zest of Shanghai, Szechuan and Beijing flavors.

With our dinner set at 7, the luxe interior by Joyce Wang and the dark romantic ambiance set a whimsical mood, giving me a hint that there's no chance for me to fly light that night. Of course, who would want to miss on gourmandizing on acclaimed Mott 32 dishes!


Got the night rolling with a sexy glass of the fruity, floral Forbidden Rose. It's vanilla infused pisco, passion fruit, lychee, chili and lemon Mott Signature Cocktail that whet my appetite for the two house-favorite starters that was to be served next.

Be careful in eating the Runny Quail Egg Sui Mai. Bite tender, and have a soup spoon ready under your lip, as you don't want to waste the soft egg that might run down. Or better yet, take it all in one bite. Made with Iberico Pork, quail egg and truffle, it's such a flavorful surprise.


The Barbecue Pluma Iberico Pork Char sui is made with Iberico pork and yellow honey. Luscious cuts with a good charring on its edges, each almost-melt-in-your-mouth bite gives out a hint of sweet woody taste that enchanted me to have more.


Before having the mains, it was time for my second cocktail. This round, I ordered a friend's recommendation – the Hanami! It's made with rye whisky, gin, umeshu, yuzu, shiso, ginger beer and chrysanthemum. It's a refreshing floral and citrusy drink that is a perfect palate cleanser before having the Mott 32 Signature main dish, the Pecking Duck!
Mott 32's Apple Wood Roasted 42 Day Peking Duck is for sure a must-try! Head Chef Jeung Shun Sing carving the duck was already an art! He served the skin first and I was bowled over with how the skin was as crunchy as our Cebu's lechon without the biting saltiness. It also has a bit of duck fat which made it a bit buttery as you bite.



Then, the tender roasted duck meat was served with wraps, cucumbers, scallions, onions and Mott Signature Sauce. Delish!


What was left of the duck was then deep fried to golden crunch! I was honestly too full to bite into one, but had a few pieces, which I enjoyed dipping in chili soy sauce.


Our group ended up with a last glass of cocktail – I had the Hong Kong Iced Tea (Blanco tequila, Lillet Blanc, Black currant and Jasmine Tea), rounds of desserts – Mango Sago and Coconut Ice Cream, and a photo with the executive chef himself – Lee Man Sing, and his team!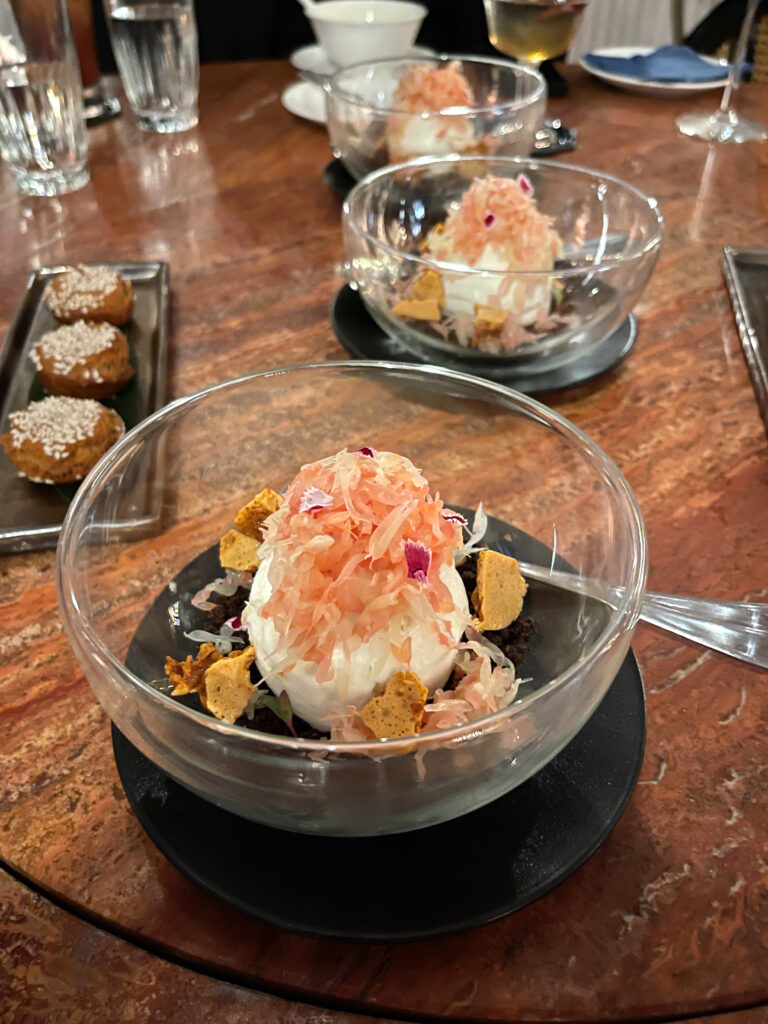 If you are up for an ultra luxe gastronomic experience, then don't miss to try Mott 32 Cebu!

It's at The Strip, NUSTAR Resort and Casino, Kawit Island, South Road Properties, Cebu City Philippines. Be sure to make a reservation by calling 032-520-4468, or via email at MOTT32.Cebu@nustar.com.ph. Book as early as three months before your planned visit to make sure you get a table. 🙂


Please follow and like us: