Slowing down and getting some time off the hustle and bustle of my daily routine truly does wonders – mentally and physically. And what better way to unwind than in a place where it's tranquil and calm!

Plantation Bay Resort and Spa Mactan is set on an 11- hectare property that even with a full occupancy, I'd still feel the comfort and privacy I need to be able to recharge and relax. In time for the Mental Health Awareness Month, I had a quick time to breath and rejuvenate at this magnificent oasis.

I only had an overnight stay to refresh my senses, and made use of the downtime to realign my personal goals. So what did I do during my zippy stay?

1. Had a long soak in the tub
I love soaking in water, and I personally think it's even more relaxing when there's bubbles and oils. My Lagoon View Room comes with a tub, and a shower system I'd want to bring home. Yeah, I am that kind of person who takes atleast 30 minutes to get out of the shower. Teehee.


2. Eat Great Food
Fiji is personally my favorite F&B outlet in Plantation Bay, and indulging in the 'World's Best Tempura' is just a delight! Imagine biting into a crunchy batter , then a juicy tasty prawn…..mmmm….YUM! Also had the chance to try the new dessert offering conceptualized by none other than Chef Gerard Apurado, PB's Chef de Cuisine.

Best-tasting food is no doubt an easy happy pill, and Fiji does not disappoint!
3. Swim
Swimming simply makes me feel relaxed and happy. Being an island boy, it's a natural energizer. And with the lagoon just a few steps from my room patio, that made me absolutely giddy! 😉
Renewed and invigorated, had requested for late checkout and had the chance to squeeze in some time to finish some tasks for work. Well, with this view, who wouldn't be inspired! 😉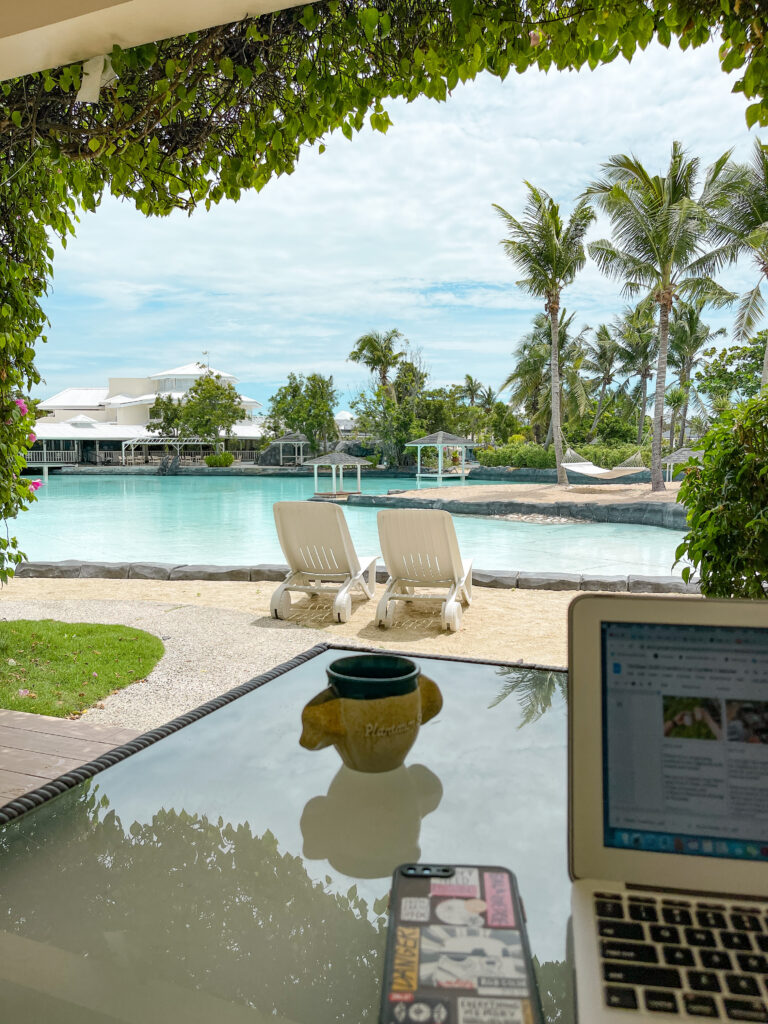 Treat yourself to some me time too! Advise to stay at least 2 nights of peace and calm. Book your rooms HERE. For room inquiries, call 63 32 236 9040 .

Plantation Bay Resort and Spa Mactan is in Marigondon, Lapu-lapu City, Mactan Cebu, Philippines 6015.
Please follow and like us: